What is so exclusive about your silk?
"If you find someone who has 125 different types of silk in over 2,000 colours, then please let us know. We are unrivalled in this respect. We may not be the world market leader, but we have the largest range of silk in Germany, Austria and Switzerland – perhaps in the whole of Europe. But for me, as managing director of Barth & Könenkamp, it is important to point out that it is not about the one exclusive silk we have. It is the entire range, not the individual finishes. It is the spectrum of colours, not the individual articles. In addition, we want to stock the widest possible selection of silk fabrics in order to be in a position to cater to every requirement expressed by our customers."
How can dealers or buyers tell that a silk is of good quality?t?
"Basically, many of our clients are already sufficiently experienced in textiles to be able to recognise the quality of our silks themselves. There are also many smaller features, however, which help to identify particularly good quality. Some types of silk, such as 3021 Taffeta or 3091 Dupion Taffeta, make a scrunching sound when you take hold of them and listen closely. The sound is a bit like the crunch you hear when you walk through fresh deep snow. Only the finest yarns make this scrunching sound. Crêpe de Chine or Crêpe Satin are basically similar in quality. They are made differently or look different but basically their origin is the same: they are the best threads from the cocoon. But of course it is also down to experience."
How can a layperson tell that silk is silk?
"To check whether it is silk or not, you can set the thread alight and if it smells like burning hair, you can be sure that it is genuine silk. Like other natural fibres, the fibre contains protein. This is also where the smell comes from. If it smells like burnt plastic, you can be sure that it is not pure silk. By the way, it is not usually the quality of the silk that is to blame when there is a problem or a complaint, but it is the lack of knowledge as to the correct care."
And how do you care for silk properly?
"The first rule of thumb is that the better the quality of the dye, the better the chance of being able to treat the silk correctly. Doupion, for example, is a partially shot silk because it is woven from two different threads. Silk absorbs a very large amount of dye therefore some of it also washes out. This is why dry-cleaning is recommended for shot silk as it is for all yarn-dyed products. In case of piece dyeing, the garment can also be pulled through lukewarm water. Some customers also write to us to let us know their own experiences with washing the garments and recommend various special detergents. In principle, however, we always recommend dry-cleaning."
But silk has other attributes which make it so special.
"Yes, indeed. On the one hand, it is the long production process. It is a natural product and is made by an animal – according to ancient tradition – and the thread which this animal spins is endless, not infinite, but longer than any natural animal or plant fibre. It is only the length of the thread which accounts for this special quality: special smoothness, special sheen, special strength and a special uniformity of quality.
The second factor to mention is the flexibility of silk. There is Bourette silk, which is actually regarded as waste and of inferior quality, but it is unique, having its own irregularity in the threads and noils, a matt surface and a coarse texture. By contrast, there are flowing fabrics like Crêpe Satin or Georgette. The stiff Taffeta finishes are also very different from the ones already mentioned but they are still silk.
Of course, they also vary greatly in their appearance – iridescent Taffeta, sheer Chiffon, matt and heavy Wild silk. They are all united by the properties of silk which no other material can offer."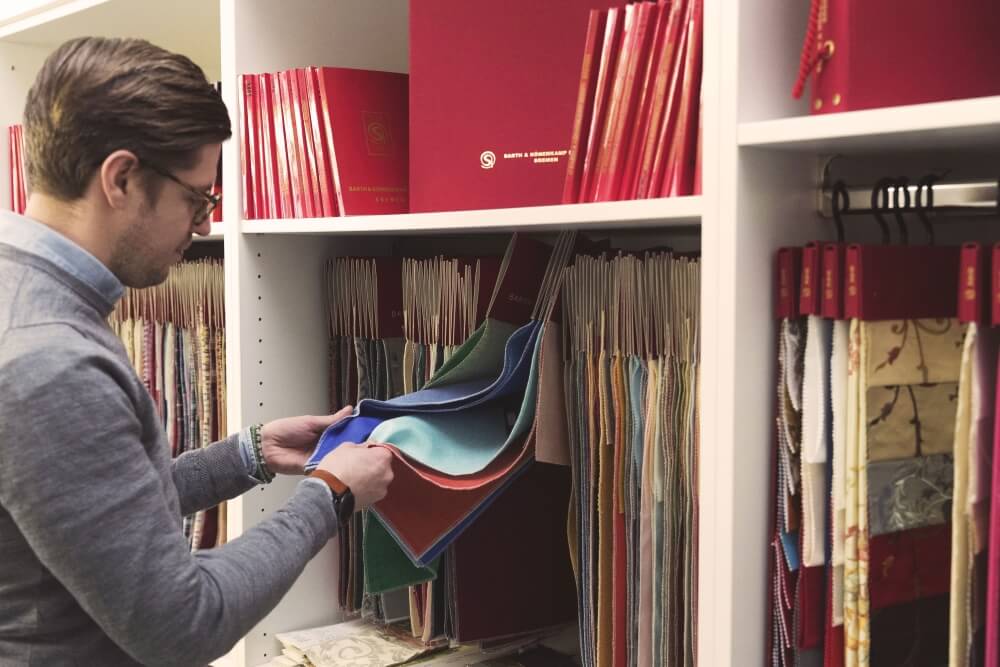 What are these properties?
"Silk is a unique textile. Which other fabric can combine so many functions? Silk has cooling and warming properties. Silk combines this very special feature with an inherent strength. And the constant boast of this material is that it feels pleasant on the skin."
Is it also true to say that silk is exclusive because it is not mass-produced?
"Yes, it is a niche product, even if it is in vogue – as it has been in recent years. Silk cannot be produced in any quantity at will. It depends on the moths. It may be possible to expand the breeding of the moths to a certain extent but only to a minimal degree. It would not be possible to double the yarn production because of the lack of capacity alone – there are simply not enough people with the necessary skills. So there is a limit to the available quantities – and they account for less than one per cent of the total textile market."
What does the future hold for Barth & Könenkamp Seiden?
"The path that the world is taking right now in terms of digitisation, sustainability and availability is also a matter of relevance for our trading house. As you can see, we have a new website and we have updated our corporate identity to bring it into line with the times. We are on social media channels like Instagram. We take sustainability and quality control very seriously and travel to the producing countries in order to raise the standards of production and quality and to improve working conditions and, first and foremost, to put measures for continuous improvement in place. We want to prove ourselves in the future in our core business, meaning that we want to guarantee the availability of our basic products. We will also be spending more time on the lookout for exciting silks so that we can be presenting products at trade fairs which are not in trend but will set the trend.