Mulberry silk

Also called cultivated silk
It comes from the silkworm which feeds entirely on the leaves of the mulberry tree.

Reeled silk

Refers to the "endlessly" long thread from the middle part of the cocoon. The finest silk fabrics are made from reeled silk.

Tussah silk

Also called wild silk
There are many silkworms living in the wild which supply us with so-called wild silk. Tussah silk is more robust than mulberry silk and, by nature, has a slightly brownish colour. The thicker and shorter thread is more uneven and less fine due to its natural colouring and heavy basting. Honan and shantung are some of the fabrics made from this wild silk.

There is one key feature which distinguishes tussah silk from other types of silk. Silk is normally obtained from the unwound threads of the silk moth cocoon but this is not the case with tussah silk. Here the silk threads are obtained from cocoons from which the moths have already hatched and not, as is otherwise the case, before they have been killed in boiling water before hatching.

The cocoon is damaged in this process and the thread is therefore no longer intact in many places. This in turn causes knots when weaving the threads, which lead to the typical irregular structure. The threads are also only partially subjected to the time-consuming process of degumming therefore the fabric feels somewhat harder.

Wild silk

Wild silk is obtained from cocoons from which the caterpillars have already hatched. A hole is formed during the hatching process which causes multiple points of severance through the cocoon. During the yarn production, this results in connection points, the small irregular noils which give the silk, e.g. doupion silk, its characteristic structure.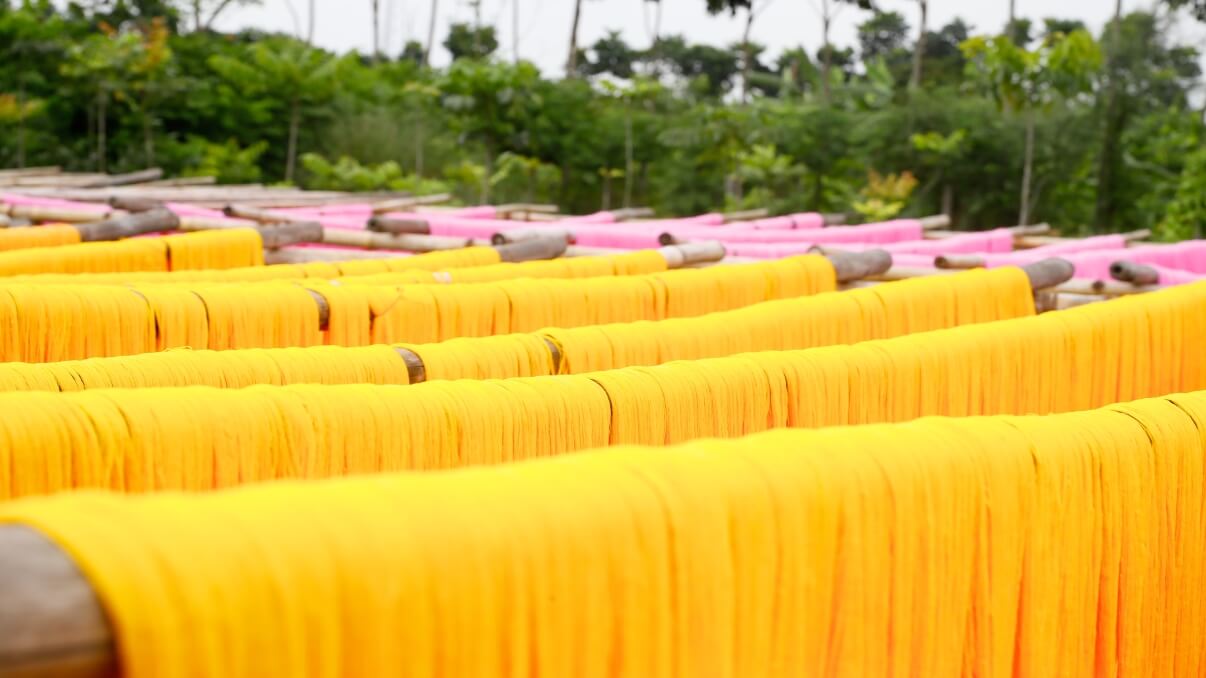 Shantung and Doupion silk

Linen-like fabric with natural noils and slubs which give this wild silk a rustic surface. The irregularities in the fabric are intentional and add to its characteristic look.
Applications: scarves, ties, dresses, dirndls, curtains, blouses

Honan

Fabric made of wild silk with small slubs. Honan silk is produced in plain weave/taffeta weave. This is a simple weave arranged in a chequered pattern which results in the same appearance on both sides. With finer filaments and smoother than shantung.
Applications: lampshades, blouses, dresses

Taffeta

Skein-dyed fabric with a semi-rigid finish and a fine, even surface.
Applications: linings, blouses, cocktail dresses, evening gowns, decorations

Organza

Mid-sheen silk fabric with a natural, stiff handle.
Applications: dresses, blouses, fine curtains, tablecloths

Satin / Crêpe-back Satin / Satin Duchesse

Silk fabric in satin weave with smooth, glossy surface.
Applications for satin / crêpe-back satin: blouses, evening dresses, lingerie, bedding
Applications for satin duchesse: heavy, dressy evening gowns, trouser suits, decorations

Crêpe de Chine

Flowing crêpe fabric in taffeta weave made from reeled silk which gets its attractive grain through the special production process, with slightly twisted, fine warp ends and firmly twisted, coarser ply yarn in the weft.
Applications: blouses, dresses, scarves

Chiffon or Mousseline

Gauzy, loose, transparent silk fabric. No other raw textile could produce such a fine crêpe fabric.
Applications: scarves, shawls, stoles, pareos, tops

Crêpe Georgette

Delicate taffeta weave fabric, heavier and more opaque than chiffon, with a crisp, grainy handle. In contrast to chiffon, it has a much firmer handle and a more resilient body. Made from firmly twisted 100% mulberry silk crêpe yarn. Georgette has a fine, irregular grain. It is named after the fashionable Parisian milliner Georgette de la Plante, whose father is regarded as the inventor of this flat woven fabric.
Applications: blouses, trousers

Bourette

A silk fabric with occasional noils, made from the yarn of the outer and inner surfaces of the cocoon which is not suitable for reeling. Bourette is excellent for sanitary products because, like reeled silk and schappe silk, it is very durable. The textiles remain in good condition even after many years of use, changing neither their appearance nor their texture. Bourette silk is somewhat rough to the touch with a feel similar to linen. Bourette contains a lot of silk gum therefore the yarn is said to have antibacterial properties.
Applications: diapers, nursing pads, clothing, robes

Twill

Shiny, supple silk fabric with characteristic diagonal rib. Made entirely from reeled silk with a slight twist in the warp and weft. Twill is suitable for fine print designs.
Applications: shawls, ties, scarves